Newsletter Issue 6. 23/9/11
Hi, This is the sixth CFF Newsletter
The latest Coaster news:
Dollywood's 2012 coaster named
Read more
Forum Staff News
Nemesis567 has resigned from his Global Moderator role.
Subliminal has been added to a special Tech Administrators group.
General Forum News
All modifications have been installed by Subliminal.
And we now are looking for two new Global Moderators please
PM Simba
if you are interested.
Competion
Name the following roller-coaster and
PM Simba
your answer.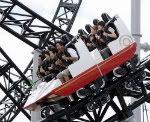 I will post the correct answer in the next Newsletter.
Prize = 250 CFF Points
Answer to the last Competion was Great Bear. (Thekingin64 and Nemesis567 got the answer correct)
Well that is all for now. Thanks for reading.
Simba
Members who contributed in this newsletter;
Simba