THE SMILER AND SAW THE RIDE AT THORPE PARK CLOSED INDEFINITELY!!!
Update 05/06/2015 - 13:00: Merlin Entertainments have taken the decision to have The Smiler to be closed indefintely, with rumours circuling that it could be scrapped after the terrible accident.
Merlin have also taken the descion to close Saw The Ride a Gestlauer Euro-Figther located at Thorpe Park, Surrey until futhur notice since the accident on Tuesday and Chessington World Of Adventures have also temporarily closed two of their main rollercoasters Dragon's Fury and Rattlesnake.Update 07/06/15 - 18:00Alton Towers will reopen on Monday 8th June, however X-Sector and Sonic Spinball will remain closed untill further notice while The Smiler investigation continues.
---
Alton Towers' record breaking 14 inversion rollercoaster The Smiler suffered a two train collision at 14:09BST, 16 riders were on board the train which crashed into an empty one which had valleyed in the Batwing inversion (inversion 5 and and 6) before the vertical lifthill. It is believed that the four riders in the front row of the train that crashed into the valleyed one (Two men aged 27 and 18 and two females aged 19 and 17) have suffered serious injuries and are being airliffted to hospital by West Midlands Ambulance Service. Currently the X-Sector area of the Park is clossed off, while the rescueing and evacuation of the riders takes place, and is expected to remain closed tomorrow (3rd June 2015).
Eyewitness reported hearing "screaming and shouting" and "a loud crash" when the collision occurred. Ellis Dyson, 23, who was in the queue for the ride, added: "The ride was delayed because of a technical fault for a while and then the ride came back on. They sent a carriage without any people on it first and then sent a carriage with people on and that was the one that crashed. The platform of the ride where we were vibrated and a massive loud crash."
This is the seventh incident which The Smiler has suffered from since it's delayed opened in 2013, and it is the third incident in which a train has valleyed in the batwing inversion.
Update 02/06/2015 - 20:18: The decision has been taken that Alton Towers theme park will not open tomorrow Wednesday 3rd June following the dreadful incident on The Smiler today. All guests with pre-booked tickets, or those who arrive at the theme park, will have the choice of either having their tickets revalidated for an alternative date or a full refund.

Update 03/06/2015 - 13:00: Nick Varney, chief executive of Merlin Entertainments which runs the attraction, said investigators are now looking at the possible cause of the incident.

Mr Varney told BBC News:
At this moment in time I just thought the closure of the park was the right thing to do yesterday. It was an unusual and very tragic accident.Today we will take a more measured view of what was going on and whether it was specific to just the Smiler and take a view about opening Alton Towers.

I and the whole team are totally devastated by what happened yesterday.

The Smiler is a relatively new ride, all rides have teething problems when they open. Guest safety on those sorts of incidents is not really a major issue in the sense that when you're on a rollercoaster car, the car can't come off the track and you are restrained in the seats and when you have a glitch and the ride stops, it's not really an issue of safety to the riders. What happened yesterday is something that there are other fail-safes for. There are other braking locks that should stop two cars being on the same track, but that didn't work the way it was supposed to."


Two men aged 27 and 18 and two females aged 19 and 17 suffered serious leg injuries in the crash and were airlifted to major trauma centres, but one of them was later released. The other tweleve riders of The Smiler were six men and six women required medical treatment, including a man in his 20s who suffered neck and abdominal injuries. Some of the riders were stuck in the ride for more than four hours as emergency services provided urgent medical treatment.Update 03/06/15 - 15:15: Alton Towers is to remain closed on 4th June 2015 following yesterdays incident on The SmilerUpdate 04/06/15 - 16:30: Alton Towers is to remain closed for a third consective day tomorrow Friday 5th June 2015 following Tuesdays incident on The Smiler. The four seriously injured riders are still in hospital, and they have all been named: They were Joe Pugh, 18, and his girlfriend Leah Washington, 17, both from Barnsley, South Yorkshire, 27-year-old Daniel Thorpe from Buxton in Derbyshire, and 19-year-old Vicky Balch, who is believed to be from Leyland in Lancashire.

Mr Varney has expanded more on when the possiblity of Alton Towers will happen.

At this point I don't know if it was a technological or a human error. We want to know if this issue is just isolated to The Smiler and that we can't open again until we're sure.
Update 06/06/15 - 12:00: Alton Towers will remain closed on today Saturday 6th June and tomorrow Sunday 7th June which will be the fifth consecutive day that the Park has been closed
More News To Follow
Images: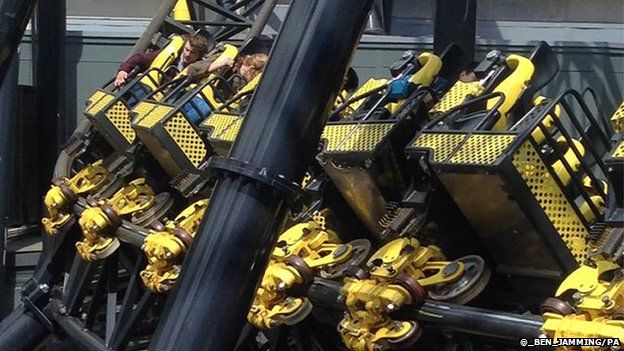 Videos: